The North Carolina Real Estate Commission requires that everyone who will be working with a real estate agent be provided with a Working With Real Estate Agents Brochure.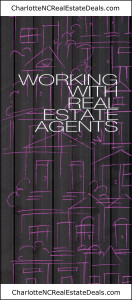 Please fill out the back page of the brochure and return to us.
This is not a contract.
We are required by the North Carolina Real Estate Commission (NCREC) to keep the back page in our files as proof that you have been given the brochure.
In general, there are there are three agency relationships:
Seller's Agent–The agent represents the seller
Buyer's Agent–The agent represents the buyer
Dual Agent–The agent works for both the buyer & seller
The question to ask a Real Estate Agent/Broker/Realtor is…
"Exactly who  are you explicitly working for?"
Here's NCREC discussing the issue of Buyer's Agency:
It is important for each individual to know if an agent is
working for them
as their agent, or
working with them
, while acting as an agent of the other party.
Here's NCREC discussing the issue of Seller's Agency:
Spanish Version:
http://www.ncrec.gov/Brochures/WorkingwAgentsSpanish.pdf
The brochure also explains how agents are paid, and touches on some of the many services a real estate agent can provide.
Any questions, we will be happy to explain what this is all about…

Robert Zuniga
(c)  704-237-0354
(f)  704-626-3180
charlottencrealestatetips [at] gmail.com
  Equal Housing Opportunity
© 2015-2016 Worldwide Rights Reserved –Robert Zuniga–
REALTOR® – A Registered collective membership mark that identifies a real estate professional who is a member of the National Association of REALTORS® and subscribes to its strict Code of Ethics.